Prevalence: 5% of the population
Origin: Genetic/environmental, infectious (mycotic), traumatic
diseases associated with cerebral aneurysms:
Polycystic kidney disease
Marfan syndrome
Ehlers-Danlos syndrome
Pseudoxanthoma elasticum
Fibromuscular dysplasia
Sickle cell disease
Aortic coarctation
Osler–Weber–Rendu syndrome
How is a brain aneurysm diagnosed
By rupture producing cerebral haemorrhage (subarachnoid haemorrhage)
Chance finding in a MR image or CAT scan (if they are large enough to be seen)
By effect of the aneurysm mass:

Compression of cranial nerves: generally lll pc
Epilepsy seizures by mass effect
Thrombosed aneurysms with emboligenic effect
Must all aneurysms be treated?
If there is bleeding: Yes (embolisation or surgery depending on the characteristics of the aneurysm and the patient).
If it is an accidental finding: All depends on the characteristics of the aneurysm and the patient's risk factors. In general the risk of bleeding is 1% (although it may vary depending on various risk factors).
Whether it has a mass or emboligenic effect: treatment is recommended.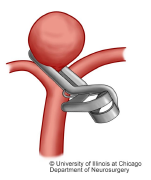 Aneurysms can be treated by embolisation (performed by an angioradiologist) or surgical clipping (performed by a neurosurgeon). The characteristics of each aneurysm and each patient will indicate the best treatment option.